3 Pack Brand New SlimFast Keto Fat Bomb Snack Cup, Caramel Chocolate, Keto Snacks for Weight Loss, Low Carb with 0g Added Sugar, 14 Count Box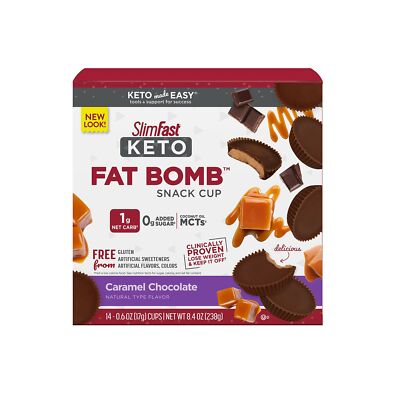 Manufacturer model:
DIET FRIENDLY SNACK: SlimFast Keto Fat Bomb Snack Cups are the perfect diet friendly snack. Each snack clup is packed with 8g of Fat to maintain your Keto status and keep you full for hours with layers of decadent chocolate and sweet, creamy caramel-flavored filling to satisfy your sugar cravings.
KETO & LOW CARB: With just 1g of Net Carbs , 0g of Sugar, and Zero Added Sugar, our snack cups are made without the unwanted sugars and carbs found in regular sweets making them the perfect, nourishing snack for ketogenic and low carb dieters, as well as anyone seeking an alternative to traditional sweets and snacks!
GLUTEN FREE: Created with optimal nutrition in mind, our snacks are gluten free and keto crafted with MCT Oil, Whey Protein, and Collagen. Free from Artifical Flavors, Colors, and Sweeteners, our Fat Bombs take the hassle out of snacking by providing you with a high quality snack that is equally delicious in taste!
ON THE GO SNACKING: At SlimFast, we understand that snacking while dieting can be hard. With 14 conveniently packaged cups in each box, our Fat Bombs are perfect for on the go snacking. Pack our Fat Bombs with you so that you always have a quick, healthy indulgence that will keep you full and help you stay on track wherever your busy schedule takes you!
KETO MADE EASY: Enjoy our other delicious Keto offerings such as SlimFast Keto Meal Replacement Shakes and Keto Meal Replacement Bars to satisfy your cravings and help you stay on track to meet your weight loss goals!